Discover more from Polymathic Being
Counterintuitive insights from technology, innovation, philosophy, psychology, and more.
Over 2,000 subscribers
Welcome to Polymathic Being, a place to explore counterintuitive insights across multiple domains. These essays take common topics and explore them from different perspectives and disciplines and, in doing so, come up with unique insights and solutions. Fundamentally, a Polymath is a type of thinker who spans diverse specialties and weaves together insights that the domain experts often don't see. 
Today's topic shifts gears and explores the interesting sport of freediving I immersed myself in while living in Florida. Let's plunge into the psychological and physiological challenges of the sport as well as the beauty of relaxing, being in the moment, and letting things go.
Before we start, I highly recommend you watch this video. It's a great capture of freediving and highlights the beauty of the activity.
Introduction
In 2021 I officially entered the world of freediving. This wasn't my first dalliance with diving as I'd got myself a pair of fins and a mask as a kid up in Northern Michigan and dove in wonderful spring-fed Clear Lake. There was a place we called The Abyss after the 1990s movie and this area had a shockingly steep drop-off into over 20 meters (60 ft) of water. We'd grab rocks and sink down as we tried to keep our ears from over-pressurizing. I got pretty good at diving this way and turned it into a fun hobby of exploring dive platforms and piers and collecting treasures of things people forgot to take out of their pockets. Yes, the life of a 13-year-old finding $50 in cash and a corroded eagle necklace among other treasures isn't to be underestimated.
But once I got older, I didn't do much diving. I snorkeled with my wife on trips to the Bahamas and the Mexican Riviera but it wasn't until 2021 that I got back into freediving. This time it was through my friend and fellow polymath
as he had recently picked up the sport and convinced me to join. I thought I was going to get into a fun hobby. Instead, I entered a world of advanced physiology and psychology where I learned how to be in tune with my body and my mind.
Freediving
What I love about freediving is the simplicity of it all. It's just fins, a mask, a snorkel, and a wetsuit and with that, you can unlock the depths of some of the most amazing places in nature that very few people ever see. Even better is the lack of the burden of SCUBA gear and the silence of not hearing the respirator bubble which allows you to hear the most fantastic sounds underwater. Also, freediving is a bit counter-culture and reminds me of snowboarding among skiers.
So with all this simplicity, why are there so few people who actually dive this way? I think it's honestly the counterintuitive nature of how free-diving works. It's not about power, strength, courage (per se), or just guts. It's actually about losing yourself to lower instincts, clearing your mind of clutter, and getting into the zen of freediving.
Physiology of Freediving:
What's important to know when freediving is that humans have a secret superpower called the mammalian dive reflex. This complex physiological response occurs when the face is submerged in cold water and is largely keyed by skin sensors around your eyes. It prepares the body for underwater diving by conserving oxygen and protecting our vital organs by:
Slowing the heart rate: Upon submersion in water, the heart rate slows down by as much as 25-50%. This helps to conserve oxygen and reduces the amount of carbon dioxide produced by the body.

Narrowing of blood vessels in the limbs: The blood vessels in the limbs constrict, reducing blood flow to the extremities and diverting blood to the core of the body where it is needed most.

Increased blood flow to the heart and brain: The blood flow to the heart and brain increases, helping to protect these vital organs during underwater dives.

Reduction of oxygen consumption: The body's metabolism slows down, reducing the amount of oxygen consumed and prolonging the time that can be spent underwater.

Dilation of the bronchioles: The air passages in the lungs (bronchioles) dilate, allowing for easier and more efficient oxygen exchange.
The mammalian dive reflex helps aquatic mammals and humans stay underwater for longer periods of time by conserving oxygen. Another fun aspect of our bodies' response to water is that, if you get to the point of blacking out, your body is only halfway to actual damage. This is because part of the reflex is to expel the air from your lungs, lock your airway and enter a 'safe mode.' This is how people have been known to recover from drowning long minutes later with no adverse effects.
One of the main challenges you'll notice immediately on diving more than 3m deep is the incredible pressure increases based on the weight of the water. For every 10m of depth, the pressure increases by 1 atmosphere. This means most people feel incredible pain in their ears at about 10m without equalization and serious damage can occur without equalization beyond that. But not to worry, since we are mostly liquid inside these skins, simple pressure equalization by plugging your nose and popping your ears regularly can keep everything comfortable. (Pro-tip: don't forget to let a little air out of your nose to keep that mask from squeezing your eyes out!). What's fascinating is the flexibility of your lungs! When a person dives with their lungs fully inflated, by 10m (30 ft), their lungs are compressed to half their original volume. By 30m (100 ft) your lungs are compressed to the size of your fists. As you surface, they expand back to normal.
Your body's adaptability to these depths and its evolutionary dive reflex are two physiological advantages that you can intentionally leverage to maximize your depth and time in a dive. The key to really unlocking the depths is in how we breathe in preparation for the dive.
If you go to a popular location you'll see freedivers floating on the surface, with their faces in the water, breathing through their snorkels, and not moving. This is called 'breathing up' and is a method by which we go through a controlled breathing exercise. This slows your heart rate and maximizes the oxygen in your blood, it also preps the mammalian dive reflex. I'd wait until my heart rate dropped to about 60 beats per minute as a general rule of thumb. (and remember that discussion of slower heart rate? When I'd surface, my heart would be closer to 40 beats per minute)
As you get your body slowing down, you then breathe deep into your belly, top off in your chest and execute a 'duck dive' to streamline your entry into the water. From there it's just "Slow is smooth and smooth is fast" and the psychology kicks into high gear.
Psychology of Freediving:
"Slow is smooth and smooth is fast"
One of the first things I learned in freediving is that, for all the strength, fitness, and lung capacity I had, I couldn't use it the way you might in a triathlon or a cross-fit workout. Sure I could power down…but then I'd have to come right back up as I'd burned all of my oxygen inefficiently. Even worse was the time I powered down, felt fine, but suffered a shallow water blackout as I broke the surface! (always dive with a buddy!) The goal of freediving is to move as slowly as possible, to go as far as possible, and spend as much time as possible underwater.
The amount of psychology to work through in achieving this is incredible! First off, just clearing your mind, getting in touch with your body, and focusing on, and controlling your breath and heart rate is fantastic. The second part is knowing the physiology of your body and how incredibly capable it is and being able to put mind over matter.
For example, when you hold your breath, known as apnea, that desperate feeling that you need to breathe after a short while isn't a lack of oxygen. It's actually a build-up of CO2 triggering a reflex to breathe. (see Figure 1) What's incredible is that if you keep holding through the initial discomfort and actually get to the point that you have diaphragm contractions, you are only halfway to a blackout and a blackout is only halfway to low oxygen danger.
Skilled divers learn to recognize these signals and pay attention to know their limits as well as their actual capabilities. A critical safety consideration in freediving is that you NEVER hyperventilate. Hyperventilating doesn't add more oxygen to your blood, it merely lowers your CO2 levels. This means you reduce that signal and can dive right into your blackout zone without warning! (see Figure 2)
It is essential to be in touch with your body and feel the CO2 levels, know how to manage them, be able to push through the discomfort, and yet accept that discomfort as a critical signal. You can improve your breath hold by exercising what's called apnea tables and learning how to feel, manage, and align with your body better.
During my freediving certification with Bob Fanok from Bluewater Freedivers we were required to demonstrate a static apnea capability of 90 seconds and a dynamic apnea of 25 meters. For clarification, static is simply holding your breath underwater while not moving, and dynamic is while moving. I'd done a few test apnea tables with Josh but not many. I set a goal to beat Bob's class record of 4 minutes and 45 seconds but I'd only achieved 4 minutes in practice. Through Bob and Krissy Gerola's great tutelage, I was able to bust through my PR and nail a 5-minute and 10-second breath-hold. Remember those diaphragm contractions I mentioned earlier? Those started at just over 2 minutes and 30 seconds and were so violent in the end that my entire body would convulse causing waves in the water! But by knowing my body's physiology, and centering myself psychologically, I was able to focus on the contractions, count them and keep going.
Zen and the Art (and Science) of Freediving
"When preparing for a dive, a good solid mental strategy should be developed that guards your mind against unwarranted concerns - or

the unnecessary fixation on any number of the possible physical and mental stress factors that could potentially exist during a freedive.

Letting go of everything that could go wrong, or that's dragging you down, increases safety, performance, and dive satisfaction.

- Bob Fanok - Bluewater Freediving
Tying together physiology and psychology unlocked an incredible exploration into nature; both my own and the wild world underwater. I was able to see things most people never see. I was able to feel a sense of calm and centeredness that I hadn't felt before. I was able to make friends and build trust as we alternated providing safety oversight to each other. Best of all I was able to introduce my kids to the sport and watch as they gained their own knowledge and confidence.
This is what I love most about freediving and what is the most counterintuitive. Yes, you are submerging yourself in a potentially dangerous environment. Yes, you are pushing and leveraging physical capabilities you didn't know existed. And yes, you are exploring psychological levels of control that you didn't know you could manage. Yet it is in letting go of what could go wrong or is dragging you down that allows you to unlock a world both beneath the water and within your soul that has broader implications. What I learned while freediving I also apply to life outside of the water and it was transformative for how I engage the world with confidence, flexibility, and grace.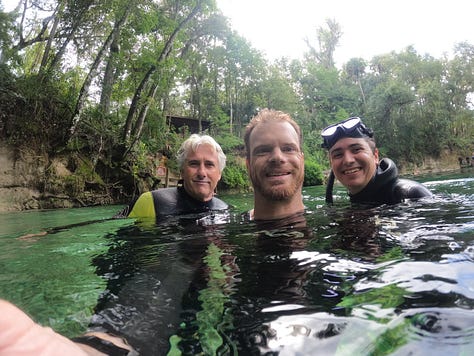 An appendix of caution before you just 'dive' in.
Never dive alone: Always have a dive buddy with you when you are freediving. This person can assist you in case of an emergency.

Know your limits: Do not dive beyond your training or comfort level. Gradually increase your depth and time underwater as your experience and confidence grow.

Never dive into caves or any area with overhead obstruction. Your oxygen is always above you. Don't let things get in the way!

Get certified. I dove a few times before my training and was honestly mortified about what I didn't know about safety procedures and how to assist my dive buddy if they got in trouble. The training is great.
By following these basic safety rules, you can reduce the risks associated with freediving and ensure that you have a safe and enjoyable experience.
Further Reading from Authors I really appreciate
I highly recommend the following substacks for their great content and complementary explorations of topics that Polymathic Being shares
Looking for other great newsletters and blogs? Try
The Sample
Every morning, The Sample sends you an article from a blog or newsletter that matches up with your interests. When you get one you like, you can subscribe to the writer with one click. Sign up here.
Also, if you have a newsletter you would like to promote, they offer a great service that gets your writing out there to a new audience.